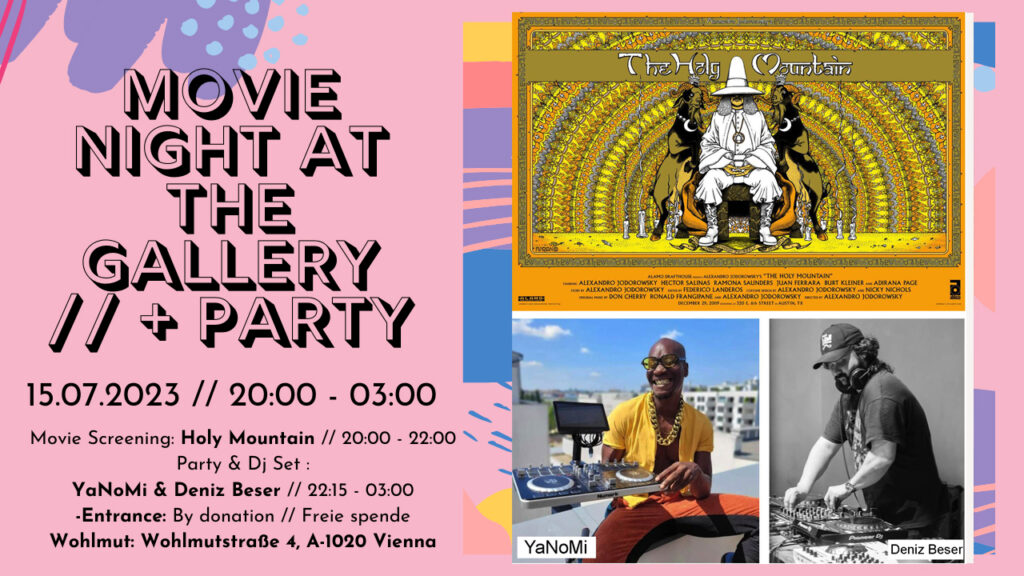 Wohlmut presents; Movie Night at the Gallery // + Party!!!
15.07.2023
Movie Screening: Holy Mountain // 20:00 - 22:00
Party & Dj Set :
YaNoMi & Deniz Beser // 22:15 - 03:00
-Screening language: English
-Entrance: By donation // Freie spende
Wohlmut: Wohlmutstraße 4, A-1020 Vienna
Facebook Event Page: https://www.facebook.com/events/936621597642613
////////

Join us for a mesmerizing cinematic experience as we proudly present a special screening of the iconic film "The Holy Mountain" at Wohlmut. Step into a world of surrealism and transcendence as we delve into Alejandro Jodorowsky's visionary masterpiece!
We invite you to immerse yourself in the enigmatic world of "The Holy Mountain." As the lights dim and the screen comes to life, be prepared to embark on a profound journey that defies conventional storytelling.
The Sacred Mountain is a 1973 Mexican-American surreal fantasy film directed by Alejandro Jodorowsky, who also participated as an actor, composer, set designer and costume designer on the film. The film was produced by Beatles manager Allen Klein of ABKCO Music and Records, after Jodorowsky scored an underground phenomenon with El Topo and the acclaim of both John Lennon and George Harrison (Lennon and Yoko Ono put up production money)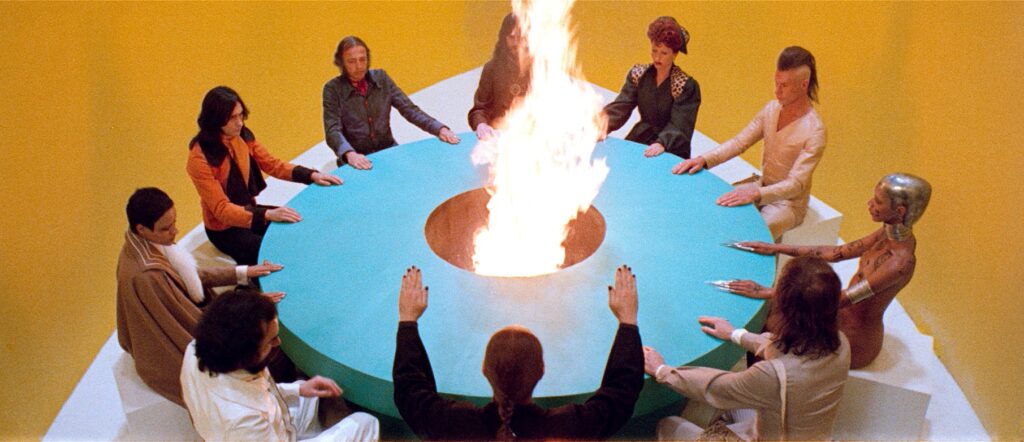 "The Holy Mountain" challenges societal norms and explores themes of spirituality, enlightenment, and the human condition. Jodorowsky's visual poetry weaves a tapestry of symbolism, allegory, and provocative imagery, inviting viewers to question their perception of reality and confront the depths of their own existence.
Wohlmut's intimate and avant-garde setting provides the backdrop for this cinematic odyssey. You'll find yourself surrounded by fellow cinephiles, art enthusiasts, and free-thinkers, all eager to unravel the enigmatic layers of "The Holy Mountain."
Before the screening, we invite you to the current exhibition by Deniz Beser, Capturing the Everyday — Work in Progress, will be on display. Just come on in!
As the lights dim and the film begins, allow yourself to be swept away by Jodorowsky's cinematic world. Surreal landscapes, mystic rituals, and mesmerizing visuals will unfold before your eyes, challenging your perception and expanding your consciousness. Lose yourself in the intricate narrative, a tale that blurs the line between dreams and reality, and experience a profound shift in your perspective.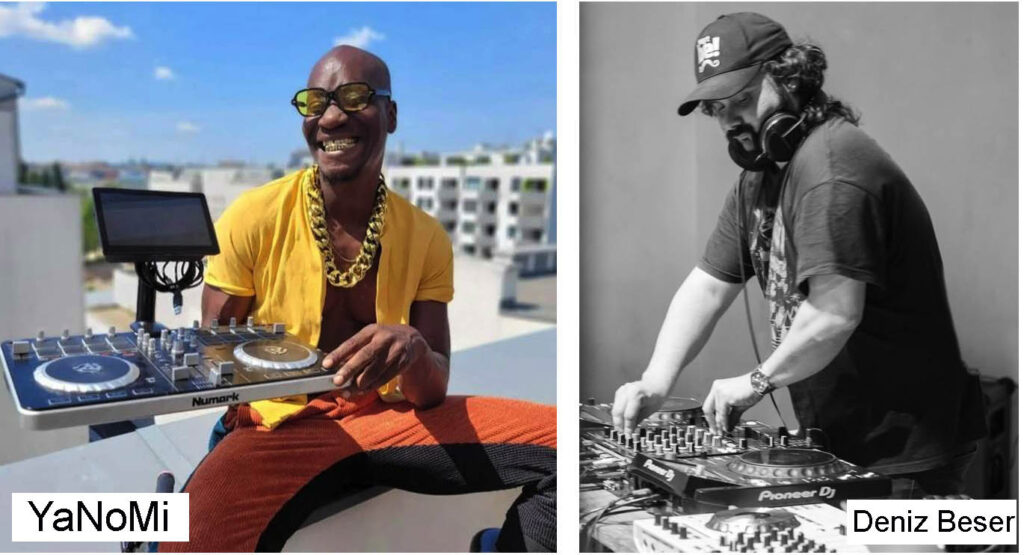 As the cinematic journey comes to a delightful conclusion, we cordially extend an invitation to a PARTY in style. Prepare to be enthralled as Deniz Beser graces the DJ booth, blend of 70s nostalgia, psychedelic melodies, and infectious funk rhythms. The dance floor awaits, beckoning each guest to surrender to the irresistible groove.
But the night's adventure doesn't end there! Brace yourself as Dj YaNoMi (Masi Yahya James) takes command of the decks, offering an exhilarating soundscape of soulful harmonies, tantalizing R'n'B vibes, and electrifying hip-hop beats. Prepare to be transported on a musical odyssey that transcends time and genre!
We will be waiting you at Wohlmut for an extraordinary evening of cinema, artistry and Party, as we explore the enigmatic depths of "The Holy Mountain."