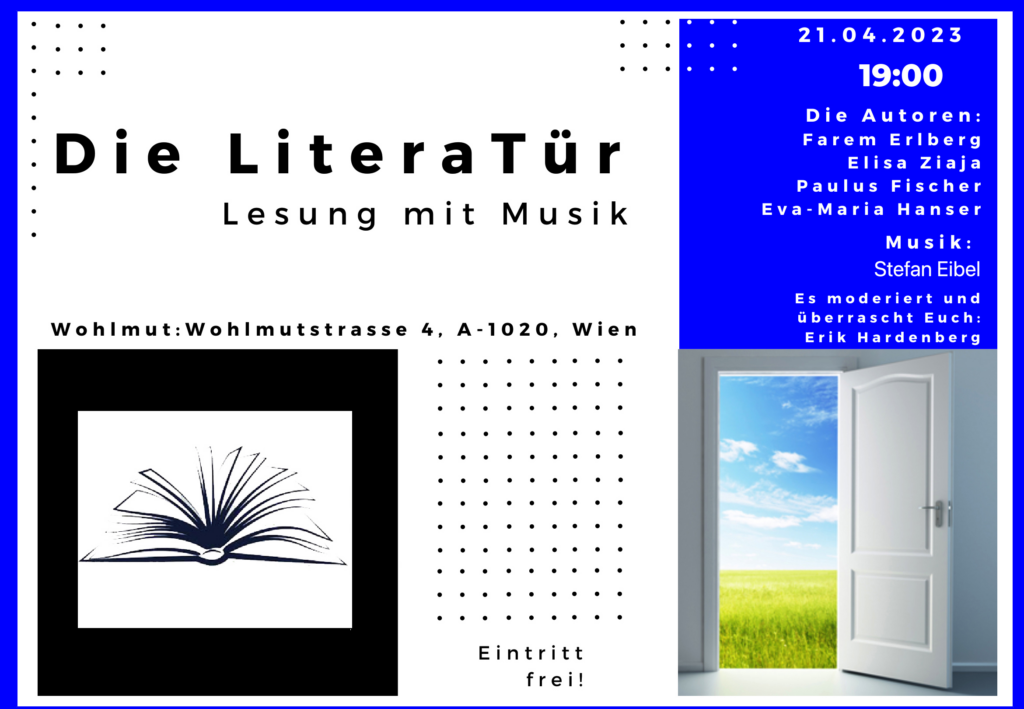 Die LiteraTür // Lesung und Musik
21.04.2023
19:00-22:30
Wohlmut: Wohlmutstrasse 4, A-1020, Wien
Facebook Event Page: https://www.facebook.com/events/6454897447854857
(English text below)
Die Lesereihe Die LiteraTür existiert seit 2020, erstmals findet sie im Wohlmut statt. Vier Autoren:innen lesen aus ihren Texten, dazwischen wird Live-Musik gespielt. Eine regelmäßige Veranstaltung, in der kultureller, literarischer und persönlicher Austausch stattfindet. Gleichzeitig wird im Raum die aktuelle Ausstellung von Deniz Beser gezeigt: Capturing the Everyday — Work in Progress. Hereinspaziert!
///
Farem Erlberg
Farem Erlberg tingelt seit Jahren durch die übelsten Kaschemmen Wiens und liest und schreit mit finsterer Miene und theatralischen Gesten radikal Trauriges, ungustiös Bitterböses und verrucht Dunkelschwarzhumoriges in den leeren, sinnlosen Äther.
Im echten Leben ist er Bibliothekar.
Eva-Maria Hanser
Eva-Marie Hanser, 2019 Promotion in Theater-, Film- und Medienwissenschaft (Universität Wien); Publikationen und Vorträge zu Theatergeschichte, Industrial Culture, Undergroundkino und Ecocriticism, 2021 Wiener Literatur Stipendium für das Romanprojekt Days of Nothing.)
Paulus Fischer
Paulus Fischer, geboren 1986, ist Autor und Pädagoge. Seine literarische Praxis galt anfangs absurd-satirischer Lyrik, mittelalterlichen Zaubersprüchen und Poetry-Slam-Texten. Momentan produziert er überwiegend autofiktionale Prosa und portraitiert auf trocken-humoristisch-surrealistische Weise die wahnhafte und von unerfüllbaren Ansprüchen gepeinigte Innenwelt der Generation Y.
Eliza Ziaja
Elisa Ziaja, Studentin und Eisverkäuferin, lebt seit 2 Jahren in Wien. Das Reisen und die großen Fragen der Philosophie brachten sie zum Schreiben. Weit über die Modephilosophie hinaus versucht sie darin die Widersprüche des Seins zu einen, um dem 'Dazwischen' eine Gestalt zu geben.
Erik Hardenberg
"Erik Hardenberg ist gebürtiger Wiener. Er schrieb in seiner Jugend Gedichte und hielt private Lesungen im Freundeskreis ab. Durch die Teilnahme an Poetry Slams begann er kurze Geschichten zu kreieren. Seine Texte performt er ausdrucksstark mit Requisiten und Audio-Einspielern. Er ist der Initiator der Lesereihe 'Die LiteraTür'. "
Music:
Stefan Eibel
Musiker/ Künstler.
Seit 20 Jahren die Musikalische Leitung der Trommel Gruppe Sambattac.
Spielt in mehreren Formatioen, wie z.B.: www.arará.at
Schwerpunkt Perkussion.
Lebt in Wien, ist 46Jahre alt und Vater einer Tochter.
//
The LiteraTür reading series has been around since 2020, and for the first time, it will be hosted at Wohlmut. Four authors will read from their works, with live music played in between. This regular event provides a space for cultural, literary, and personal exchange. At the same time, the current exhibition by Deniz Beser, Capturing the Everyday — Work in Progress, will be on display in the room. Just come on in!
Farem Erlberg is a librarian who has been wandering through Vienna's worst dive bars for years, reading and shouting radically sad, repulsively bitter, and wickedly dark-humored texts into the empty, senseless ether with a sinister demeanor and theatrical gestures.
Eva-Maria Hanser earned her Ph.D. in theater, film, and media studies from the University of Vienna in 2019. She has published and given talks on theater history, industrial culture, underground cinema, and ecocriticism. In 2021, she was awarded the Vienna Literature Grant for her novel project, Days of Nothing.
Paulus Fischer, born in 1986, is an author and educator. Initially, his literary practice focused on absurd-satirical poetry, medieval magic spells, and poetry slam texts. Currently, he produces mainly autofictional prose and portrays, in a dry-humored, surrealistic way, the delusional inner world of Generation Y, tormented by unattainable demands.
Eliza Ziaja, student and ice cream seller, has been living in Vienna for 2 years. Traveling and the big questions of philosophy brought her to writing. Far beyond the philosophy of fashion, she tries to unite the contradictions of being in order to give the 'in between' a shape.
Erik Hardenberg is a native of Vienna. He wrote poetry in his youth and held private readings among friends. By participating in poetry slams, he began to create short stories. He performs his texts with expressive props and audio recordings. He is the initiator of the LiteraTür reading series.
Music
Stefan Eibel
Musical direction of the drum group Sambattac for 20 years. Plays in several formations, such as: www.arará.at www.marthquartet.com Focus on percussion. Lives in Vienna, is 46 years old and has one daughter.