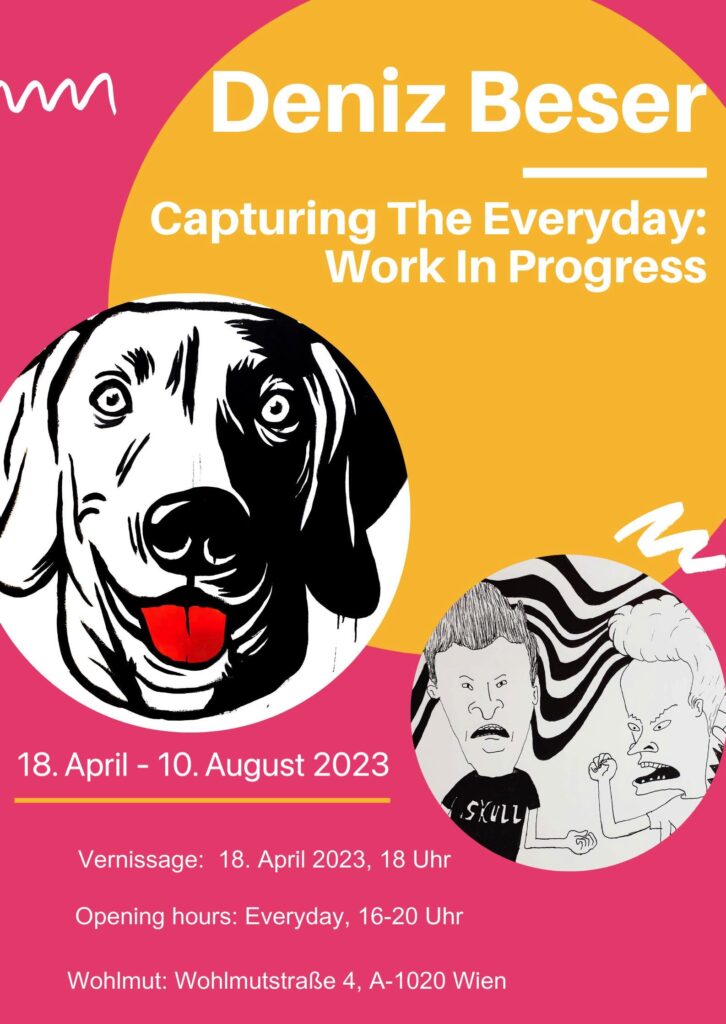 Deniz Beser | Capturing The Everyday: Work In Progress
18. April - 10. August 2023
///
Opening hours: Everyday, 16-20 Uhr
Wohlmut: Wohlmutstraße 4, A-1020 Vienna
Facebook event page: https://www.facebook.com/events/232183162795595
(Deutscher Text unten)
"The gallery won't be just a place to exhibit art, but also a space for creation, experimentation, and exploration". Deniz Beser's exhibition, Capturing The Everyday: Work In Progress, is based on this idea. For the duration of the exhibition, Beser will live and work in the gallery, turning it into an art studio, and attempting to produce a new work every day.
The works in the exhibition are a reflection of Beser's attempt to capture the everyday. Through his art, he tries to transform the mundane into documentation. He captures moments that are often overlooked or taken for granted, and charges them with meaning and humour. His works invite us to slow down, to pay attention to the details of our lives, and to appreciate the world around us.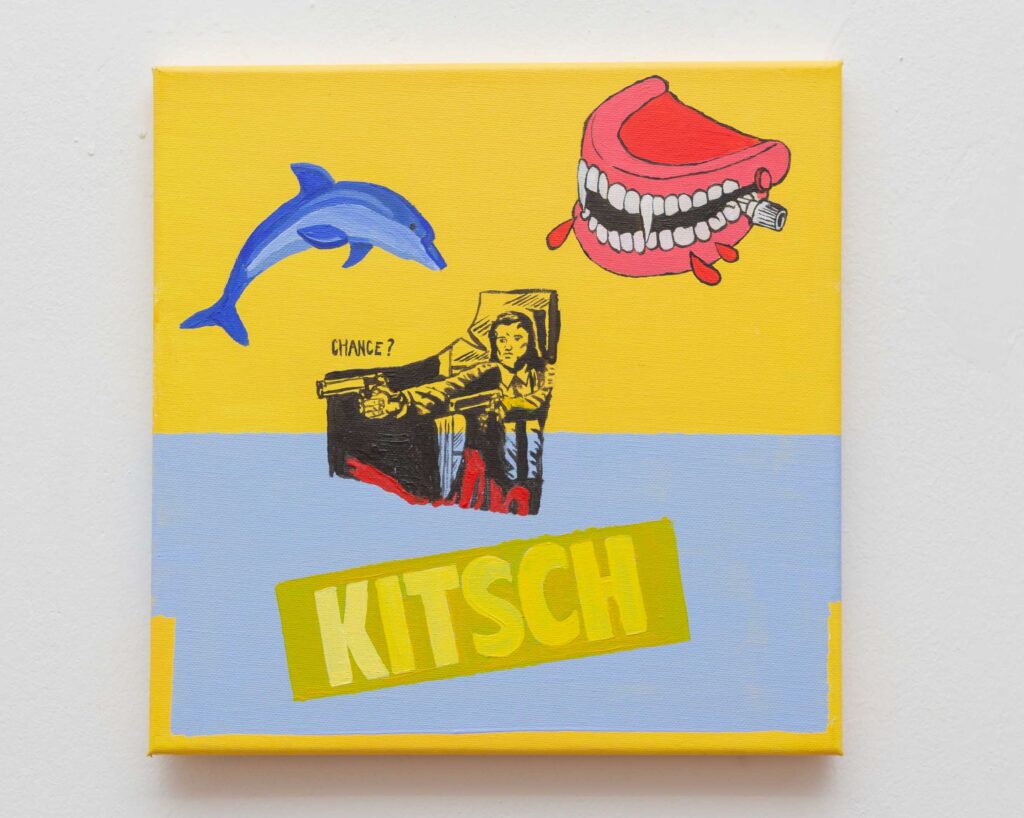 The exhibition is a celebration of the creation process. By working in the gallery, Beser invites the visitors to witness and come close to his working space and to become part of it. The works on display are not just finished products but also the result of a continuous dialogue between the artist, his materials, and the space around him. As the exhibition progresses, the works accumulate, and the gallery becomes a living, breathing organism, constantly evolving and changing. Beser is not interested in creating a static, finished product but rather in capturing the fleeting moments of everyday life and transforming them into something new.
He has been trying to explore his own discipline and the limits of production possibilities with his desire to produce one work every day since December 2019.
Beser's practice could be defined as working within a space between painting, zine, music, video, and ready-mades. All of this media is most often presented in the context of installations than as totally autonomous works. He often focuses on the absurd products of post internet pop culture, chasing internet phenomena and their protagonists, as well as portraying the silent heroes of everyday life.
////
Deniz Beser (born 1986) is a Vienna and Istanbul-based visual artist, curator, and independent publisher. He received his BA degree in Ceramics and Glass Design at Mimar Sinan Fine Arts University and studied Painting at the University of Seville. He is the director of Open Studio Days İstanbul and Fanzineist Vienna Art Book & Zine Fair. In addition, Beser is the co-founder of the publication and art collective Heyt be! Fanzin.
Beser has exhibited throughout Europe, Asia, and Canada, including shows at New Jörg in Vienna, and Kunsthalle Zürich in Switzerland. His work has been reviewed in Canon Europe, Schwäbisches Tagblatt, The Bridge Magazine, and featured in Artribune, renk magazin, and Augustin. In 2021, Beser received a grant from READ (Goethe-Institut Skopje & Center for Balkan Cooperation - LOJA) for his solo exhibition and artist residency program in Tetovo, North Macedonia.
At the same time, Beser's artworks are in private collections in Austria, France, Germany, Kyrgyzstan, and Turkey. Public collections include the British Library (UK), Universität Bern Library (CH), Ocean Side Library (US), and the University of California (US).
//////////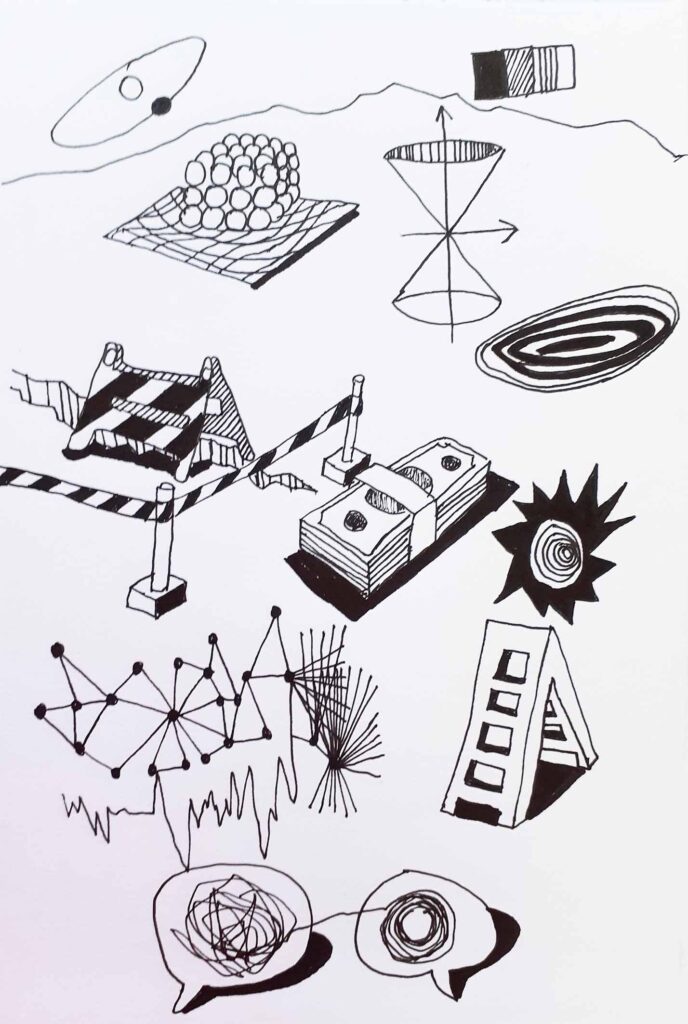 Deniz Beser | Capturing The Everyday: Work In Progress
18. April - 10. August 2023
Öffnungszeiten: Täglich von 16:00 bis 20:00 Uhr
Wohlmut: Wohlmutstraße 4, A-1020 Wien
"Die Galerie soll nicht nur ein Ort sein, um Kunst auszustellen, sondern auch ein Raum um diese zu schaffen, mit ihr zu experimentieren und sie zu erforschen". Deniz Besers Ausstellung "Capturing The Everyday: Work In Progress" basiert auf dieser Idee. Während der Ausstellung wird Beser in der Galerie leben und arbeiten, sie in ein Studio verwandeln, in dem er versucht jeden Tag ein neues Werk zu kreieren.
Die Werke in der Ausstellung sind eine Reflexion von Besers Versuch, das Alltägliche festzuhalten. Durch seine Kunst soll das Gewöhnliche in Dokumentationen der Vergangenheit verwandelt werden. Er fängt Momente ein, die oft übersehen oder als selbstverständlich angesehen werden und verleiht ihnen Bedeutung und eine Portion Humor. Seine Werke laden uns ein, langsamer zu werden, die Details unseres Lebens wahrzunehmen und die Welt um uns herum zu schätzen.
Die Ausstellung feiert den Schaffensprozess an sich. Indem Beser in der Galerie arbeitet, lädt er den Betrachter ein, seinen kreativen Prozess zu beobachten und Teil davon zu werden. Die ausgestellten Werke sind nicht nur fertige Produkte, sondern auch das Ergebnis eines kontinuierlichen Dialogs zwischen dem Künstler, seinen Materialien und dem Raum, der ihn umgibt. Mit dem Fortschreiten der Ausstellung sammeln sich die Werke an und die Galerie wird zu einem lebendigen, atmenden Organismus transformiert, der ständig in Bewegung und Veränderung ist.
Seit Dezember 2019 versucht Beser, seine eigene Disziplin und die Grenzen der Produktionsmöglichkeiten auszuloten. Ausgangspunkt dafür ist die Idee, jeden Tag ein neues Werk zu schaffen.
Seine Praxis kann als Arbeit im Bereich zwischen Malerei, Zine, Musik, Video und Ready-Mades angesiedelt werden. All diese Medien werden meist im Kontext von Installationen als völlig autonome Werke präsentiert. Der Künstler konzentriert sich oft auf die absurden Produkte der Post-Internet-Pop-Kultur, verfolgt Internetphänomene, deren Protagonisten, und porträtiert die stillen Helden des Alltags.
Darüber hinaus wird die Ausstellung Besers, Ali Riza Firat und ueberparadis ein DJ-Set präsentieren, das verspricht, alle Tanzbeine schwingen zu lassen. Geben auch Sie sich dem Beat hin!
////////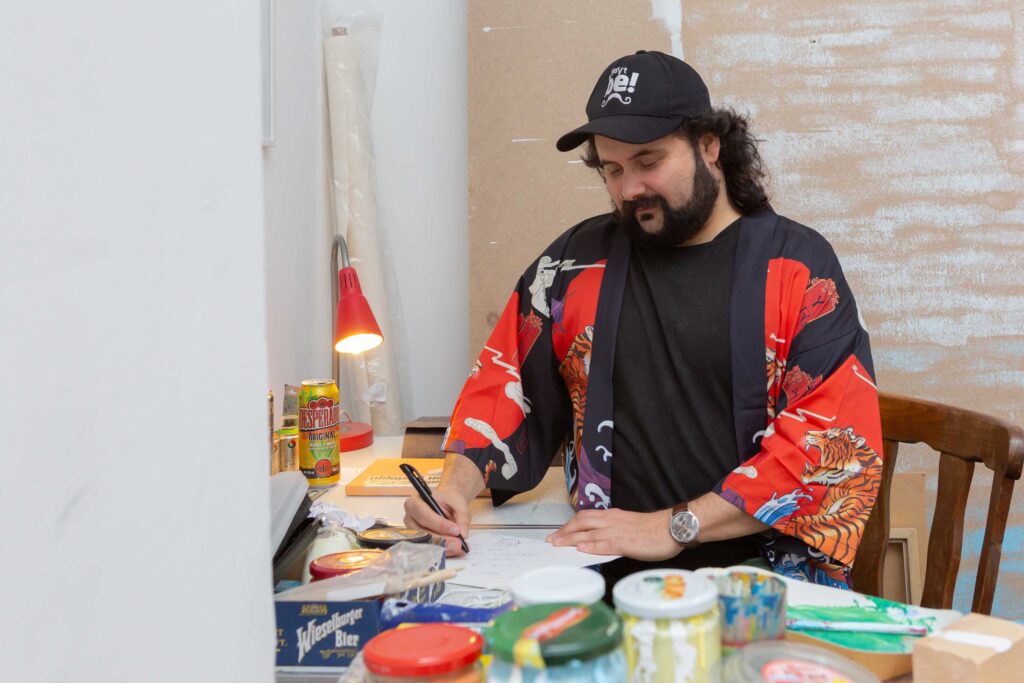 Deniz Beser (geb. 1986) ist ein in Wien und Istanbul ansässiger Bildender Künstler, Kurator und unabhängiger Verleger. Er absolvierte seinen BA-Abschluss in Keramik- und Glasdesign an der Mimar Sinan Fine Arts University und studierte Malerei an der University of Seville. Er ist Direktor der Open Studio Days İstanbul und der Fanzineist Vienna Art Book & Zine Fair. Zudem ist Beser Mitbegründer des Verlags- und Kunstkollektivs Heyt be! Fanzin.
Er hat in Europa, Asien und Kanada ausgestellt, darunter Ausstellungen in der New Jörg, Wien und der Kunsthalle Zürich in der Schweiz. Seine Arbeit wurde in Canon Europe, Schwäbisches Tagblatt und The Bridge Magazine rezensiert, sowie im Artribune, renk magazin und Augustin vorgestellt.
2021 erhielt Beser ein Stipendium von READ (Goethe-Institut Skopje & Center for Balkan Cooperation - LOJA) für seine Einzelausstellung und sein Künstlerresidenzprogramm in Tetovo, Nordmazedonien.
Gleichzeitig befinden sich Besers Kunstwerke in Privatsammlungen in Österreich, Frankreich, Deutschland, Kirgisistan und der Türkei. Öffentliche Sammlungen umfassen die British Library (UK), die Universität Bern Library (CH), die Ocean Side Library (US) und die University of California (US).