---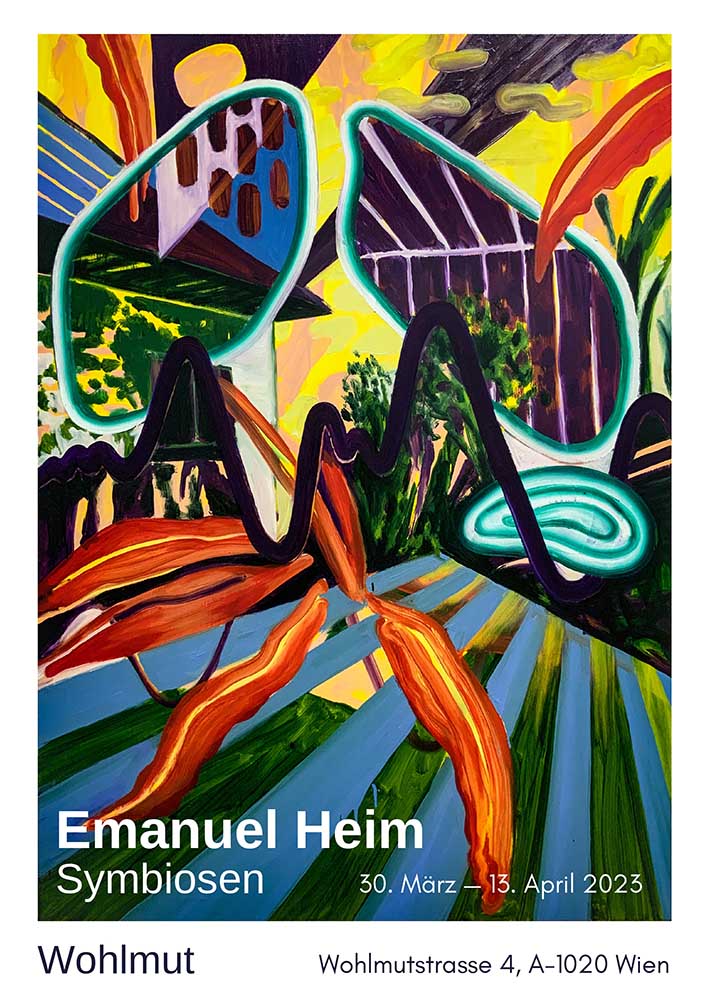 Emanuel Heim | Symbiosen
30. März — 13. April 2023
Eröffnung: 30. März 2023, 18 Uhr
Finissage: 13. April 2023, 18 Uhr
Öffnungszeiten: täglich 16 — 20 Uhr
Wohlmut: Wohlmutstrasse 4, A-1020 Wien
Facebook Event Page: https://www.facebook.com/events/552330010238732
Emanuel Heim eröffnet am 30. März seine Ausstellung Symbiosen im Wohlmut. Zu sehen sind neue Arbeiten aus dem Atelier Berlin sowie die Werke, die im März 2023 während des Gastaufenthalts im Rahmen des Wohlmut AIR-Programmes in Wien entstanden sind.
Nach der ersten Einzelausstellung in der Galerie am Theater in Rüsselsheim und Gruppenausstellungen im Aargauer Kunsthaus und im Kunstmuseum Chur, ist Symbiosen Heims erste Ausstellung in Österreich.
«Kennzeichnend für Heim sind seine prägnant mutige Farbigkeit und die souveräne gestische Handschrift, mit der er an der schwimmenden Grenze zwischen expressiv figuralen bzw. naturalen Darstellungen und der Entgleisung von Gegenständlichkeit hin zu abstrakt räumlichen Kontexten, Flächen und Formen operiert. (...) Motivisch steht für Heim der Mensch im Mittelpunkt, wie er in seiner Suche nach sich selbst auch um Gemeinschaft ringt und wie er sich in einer Welt verortet, die mit der Natur ebenso verbunden ist wie mit architektonischen Szenerien oder geometrischen Formen und Artefakten.»
Dr. Karin Mairitsch
///////
Emanuel Heim (1992 in Lenzburg); Schule für Gestaltung Aarau; Schule für Gestaltung Basel — Fachklasse für Raum, Grafik und neue Medien; 2014 Abschluß der Fachklasse für Grafik in Luzern. Ausstellungstätigkeit in der Schweiz und in Deutschland; Werke in öffentlichen und privaten Sammlungen. Heim lebt und arbeitet in Berlin und Graubünden.
---
Open Call For Artists, Zinesters, Writers, Independent publishers, Galleries, Institutions And Bookshops.

We are excited to announce our new event venue. Fanzineist Vienna Art Book & Zine Fair will take place at Atelierhaus Akademie der bildenden Künste Wien between May 26-28, 2023. Planned as a hybrid event, Fanzineist Vienna will meet you both physically and online.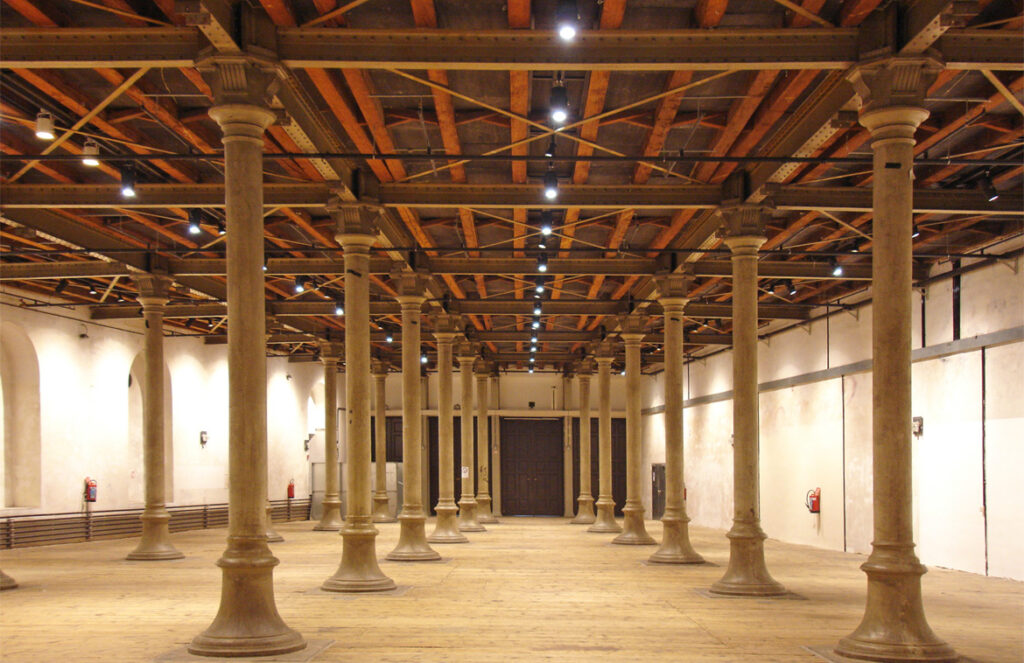 Fanzineist Vienna Art Book & Zine Fair is an annual independent publisher event that takes place in Vienna, Austria. It is focused on showcasing self-published publications and independent works in the fields of art, design, literature, culture and more. The fair provides a platform for artists, writers, and publishers, galleries, institutions and bookshops: to present and sell their works to a wider audience, as well as to network and connect with others in the scene.
Fanzineist Vienna features a variety of exhibitions, workshops, concerts and talks, as well as a range of vendors selling books, zines, prints, and other items. The event is open to the public, and it provides a space for people to explore the world of independent publishing and to discover new artists and writers.
This year, you will also be able to follow and attend Fanzineist Vienna events such as online exhibitions, talks, concerts and workshops from all over the world, via fanzineist.com and our social media channels, as in previous years.
We are now accepting applications for Fanzineist Vienna 2023. The submission deadline is Sunday, April 23rd at 23:59. Please submit your application via the form.
Registration is open to artists, zinesters, writers, publishers, galleries, institutions and bookshops.
For more information and application: https://fanzineist.com
Cooperation Partners: Academy of Fine Arts Vienna & Wohlmut
---
Location / Ort: