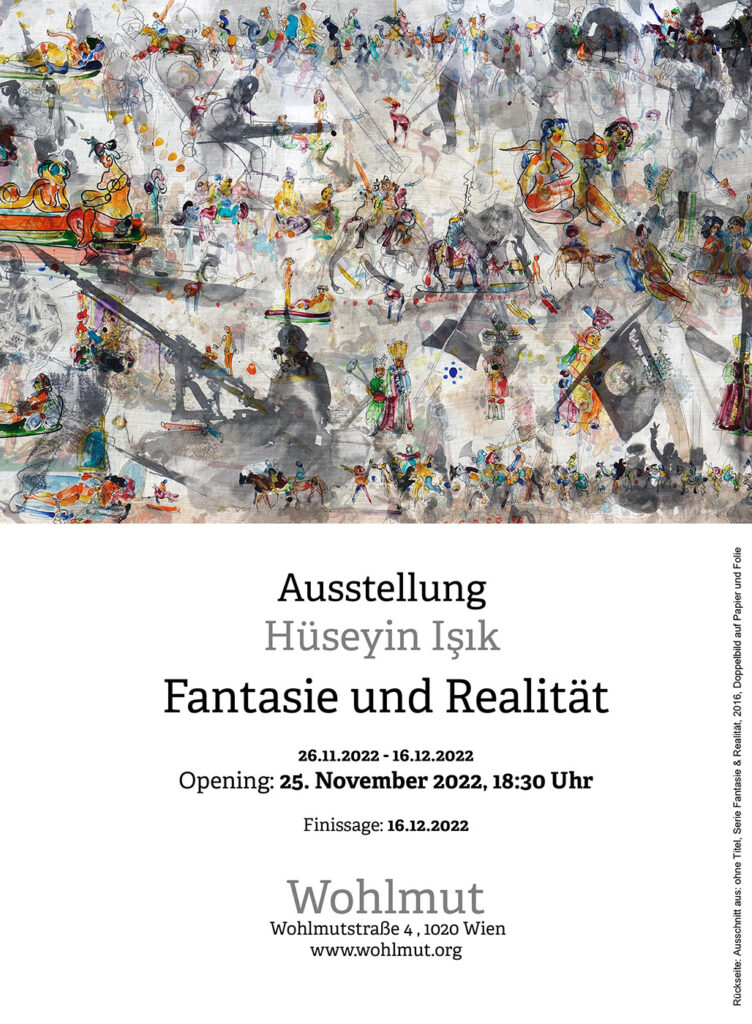 Hüseyin Işık | Fantasie und Realität | Wohlmut
25. November– 16. Dezember 2022
*Eröffnung / Opening: Freitag 25.11.2022 18:30
*Finissage: Freitag, 16.12.2022 18:00
*Öffnungszeiten: täglich, 15:00-20:00
---
Facebook Event Page: https://www.facebook.com/events/3394378290791639/
Öffnungszeiten | Visiting hours: täglich /everday, 15-20 Uhr
Adresse: Wohlmutstraße 4 / EG, A-1020 Wien (vis-a-vis Vorgartenmarkt)
Erreichbarkeit: U1/U2 Praterstern; U1 Vorgartenstraße; U2 Prater/Messe
//
English below // Türkçe metin aşağıdadır
Wohlmut organisiert zeitgenössische Kunstausstellungen, Artist-in-Residence-Programme, vielfältige andere Kunstaktivitäten und eröffnet Ende November die Solo-Ausstellung von
Hüseyin Işık.
Hüseyin Işık - Fantasie und Realität zeigt unter diesem Titel verschiedene Werke des international umtriebigen Wiener-Burgenländer Künstlers mit türkisch-kurdischem Hintergrund aus der Schaffensperiode von 2009 bis heute, die in Wien bisher nicht gezeigt wurden.
In der Ausstellung Fantasie und Realität zeigt Hüseyin Işık mit seinen eigens entwickelten doppelschichtigen Arbeiten in der ersten Schicht auf transparenter Oberfläche mittels farbiger Referenzen zu orientalistischen Arbeiten die Phantasie des Westens vor Augen, während er im Hintergrund mit häufig schwarz-weiss gehaltenen Arbeiten die Realität des
Ostens zur unterliegenden Projektionsfläche macht.
Somit kreiert Işık eine Malerei der Doppelbelichtung von «deiner Fantasie» und «meiner Realität» in einem einzigen Rahmen. Die illustrativen westlichen Representationsformen des Ostens werden weiters teils mit Soldatenfiguren zwischen beiden Schichten und teils mit Siebdruckrahmen angedeutet, die selbst zum Bildrahmen gemacht wurden. Die großformatigen Arbeiten entstanden 2016 und wurden in der Stadtgalerie der bildenden Künste in Plovdiv in Bulgarien gezeigt.
---------------------------------------------------------------------------
Hüseyin Işık (1961 in Tunceli) ist ein bildender Künstler mit über 40 Jahren
Ausstellungstätigkeit. Teilnehmer der 53. internationalen Biennale in Venedig – "Planet K".
Zahlreiche Ankäufe in privaten und öffentlichen Sammlungen im In- und Ausland. Işık lebt und arbeitet am Friedrichshofw im Burgenland und in Wien.
*Adresse: Wohlmutstrasse 4, 1020, Vienna
*Eröffnung: Freitag 25.11.2022 18:30
*Finissage: Freitag, 16.12.2022 18:00
*Öffnungszeiten: täglich 15:00-20:00
*Für weitere Infos:*
https://www.wohlmut.org/
https://www.instagram.com/wohl.mut/
---
Hüseyin Işık | Phantasy & Reality | Wohlmut
25. November– 16. December 2022
*Adress: Wohlmutstrasse 4, 1020, Vienna
*Opening: Friday 25.11.2022 18:30
*Opening hours: daily 15:00-20:00 pm
*Closing Event: Friday, 16.12.2022 18:00
With the mission of hosting contemporary art exhibitions, artist
accommodation programs and various other art events, Wohlmut hosts
Işık's solo exhibition.
Hüseyin Işık - Fantasie und Realität shows under this title selected works of internationally dynamic Viennese-Burgenlandese artists with turkish-kurdish background from the period
2009 until today, which haven't been shown in Vienna yet.
In the exhibition Phantasy and Reality, Hüseyin Işık shows his self-developed dual-layered works. In the first layer on a transparent surface, the phantasy of the west is depicted by means of coloured references to orientalistic works, and in his often black and white works in the background, the reality of the east is made to the underlying projection screen.
Işık creates a painting of dual exposure of «your phantasy» and «my reality» in a single frame. The illustrative western representation forms of the east are hinted further with
soldier figures between both layers and with silk screens that are made to picture frames themselves. The large-format works are from 2016 and have been exhibited in the City
Gallery of Fine Arts Plovdiv in Bulgaria.
---------------------------------------------------------------------------
Hüseyin Işık (b. 1961) is a fine artist with over 40 years of public exposure. Participant of
53rd international Bienniale in Venice - "Planet K". Işık lives and works in Friedrichshof in
Burgenland and in Vienna.
*For more information:*
https://www.wohlmut.org/
https://www.instagram.com/wohl.mut/
---
Hüseyin Işık | Hayal & Gerçek | Wohlmut
25 Kasım– 16 Aralık 2022
*Adres: Wohlmutstrasse 4, 1020, Vienna
*Açılış: Cuma 25.11.2022 18:30
*Açılış saatleri: her gün, 15:00-20:00
*Kapanış: Cuma, 16.12.2022 18:00
Güncel sanat sergilerine, misafir sanatçı programlarına ve diğer sanat etkinliklerine ev sahipliği yapmak amacıyla yola çıkan Wohlmut, Hüseyin Işık'ın kişisel sergisine ev sahipliği yapıyor.
Hüseyin Işık - Hayal & Gerçek bu başlık altında uluslararası çapta hareketli Viyanalı- Burgenlandlı Türk-Kürt kökenli sanatçının 2009 yılından bu yana kadar yaptığı ve Viyana'da henüz sergilenmemiş seçili eserlerini seyirciyle buluşturuyor.
Fantezi ve Gerçek sergisinde Hüseyin Işık, kendi geliştirdiği iki satıhlı çalışmalarla, birinci yüzeyde transparan düzlemde renkli oryantalist çalışmalara yaptığı göndermelerle batının
fantezisini gözler önüne sererken, arka plandaysa siyah beyaz renklerin ağırlıkta olduğu çalışmalarla doğunun gerçeğini altta yatan projeksiyon yüzeyine dönüştürüyor.
Bu şekilde Hüseyin Işık resminde «senin fantezin»i ve «benim gerçeğim»i çift pozlanmış tek bir çerçevenin içinde gösteriyor. Doğunun batılı tasvirinin çeşitli temsil biçimleri, kâh iki
yüzey arasındaki asker figürleri, kâh resim çerçevesi haline getirilmiş serigrafi
çerçeveleriyle vurgulanıyor. 2016 yılına ait büyük ebatlı çalışmalar Bulgaristan'da Plovdiv
Kent Güzel Sanatlar Galerisinde sergilendi.
---------------------------------------------------------------------------
Hüseyin Işık (1961 – Tunceli) 40 seneyi aşkın sergi pratiğine sahip bir sanatçıdır. 53.
Uluslararası Venedik Bienalı – "Planet K" katılımcısı. Işık Burgenland – Friedrichshof'ta ve
Viyana'da yaşayıp çalışıyor.